Wow. Pig daddy Thor Larsson certainly earned his fisting stripes with this one. This nasty, piss-drenched sling session ends with the bearded hunk taking both Ethan Ayers' meaty arms all the way into his gaping hole.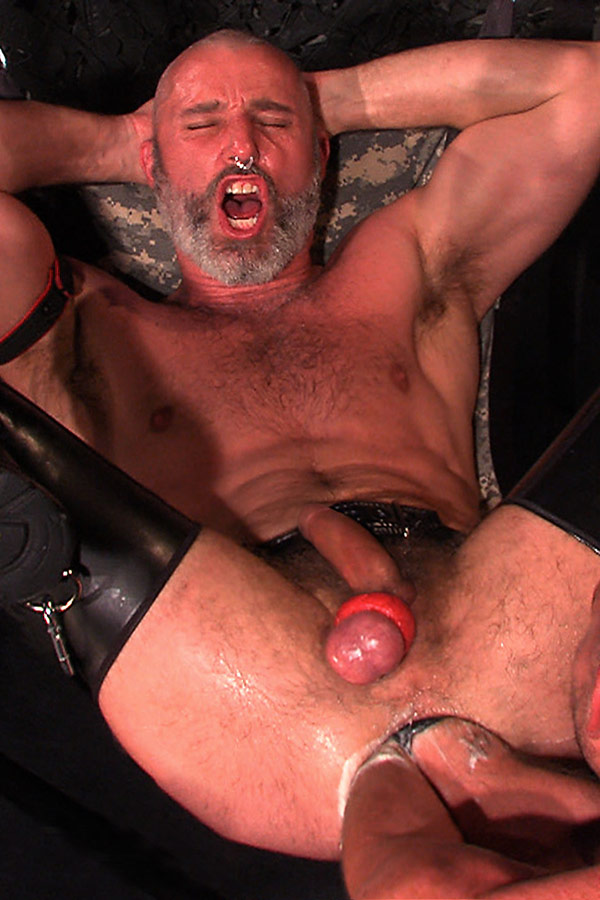 Salt-and-pepper daddy Larsson starts out in a lingering kiss with sexy mohawked Ayers as the two leather studs lick pits, pull balls and suck cock while they start getting to know each other. Thor gets down on the floor and begs for Ethan's piss. Ethan's happy to oblige, letting it gush into his new buddy's mouth.
Next Thor bends over to get his ass expertly eaten by hungry Ayers, who then proceeds to fuck him deep in his hole. But Larsson can take a lot more than that. Ethan grabs a massive dildo and twists it into Thor's butt, hammers it home, then pulls it out and follows it with his fist. I wouldn't say Ethan's hands are exactly small, but Larsson seems to have no trouble taking them. As his ass relaxes, Ayers steps back and takes a piss into his slack, sloppy hole.
Once he's run out of piss, Ethan gets back to fisting Thor's ass, letting the greedy bottom swing in the sling as he handballs his butt. He slides a second hand in, double fisting Larsson so his hole is stretched as wide as it'll go, eventually managing to get in there almost to the elbow.
See Thor Larsson double fisted in leather