Race Cooper has already shown us he can be a demanding ff top as well as a greedy butt slut. In this scene from Cazzo he flips between the two when he gets nasty with fellow rubber pigs Ale Tedesco and Sylvain Lyk.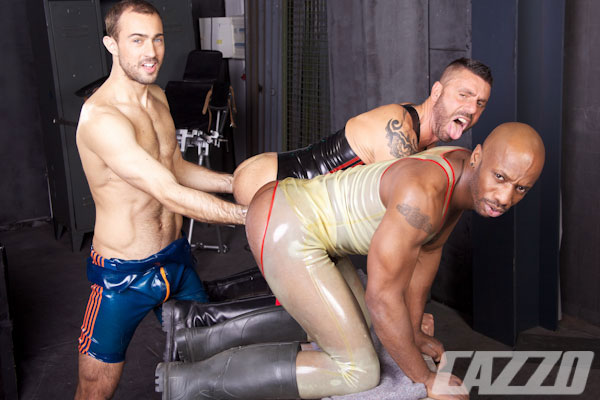 The action kicks off with Race and Sylvain swapping spit before Lyk bends over to take a cock in each end. With Cooper's big black dick stuffed in his mouth and Tedesco fucking his ass, Lyk ends up getting thoroughly used by the two tops. Getting onto his back, he opens up for Race's fist, managing to take a large part of the stud's forearm inside his sloppy hole.
But Ale wants a piece of the action too, forming the middle link in a fisting chain as he takes Cooper's hand in his butt while he fists Sylvain. Finally Sylvain turns the tables on the other two, fisting them simultaneously while the two of them howl like a pair of animals.