I don't think I'll ever get bored of watching Sebastian Keys finding novel ways to get his slutty butt stuffed. While he's not what I'd normally call my type, this filthy-minded lad shows such dedication to the cause that he's fast becoming my favourite bottom.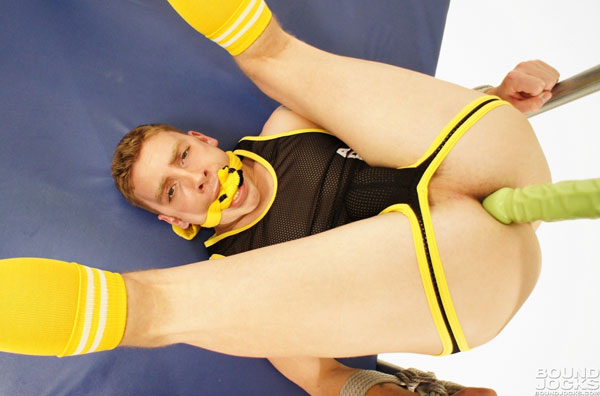 In this shoot for Bound Jocks, Sebastian's all tied up and gagged, dressed in sports kit with a black vest, jock and sneakers. Hanging enticingly from the metal scaffolding is a lacrosse stick with a green latex dildo stuck on the end. And all Seb has to do is get his ass high enough in the air and he'll receive a good, satisfying fuck, just as hard as he wants it.
It's a variation on Will Swagger's recent bondage jerk-off scene: Keys knows what he wants – he just has to work hard enough to get it. And as he pushes up against the big rubber cock and thrusts his smooth ass high in the air, the young butt whore succeeds in working the big slab of latex inside until it's buried right in his juicy hole.
Watch Sebastian fuck himself in sports kit