Supremely fuckable bearded hairy stud Paul Wagner is making his debut at Men at Play this week. With his beefy, muscular body, handsome complexion and sexy brown eyes, it looks like MAP has found itself another winning recruit.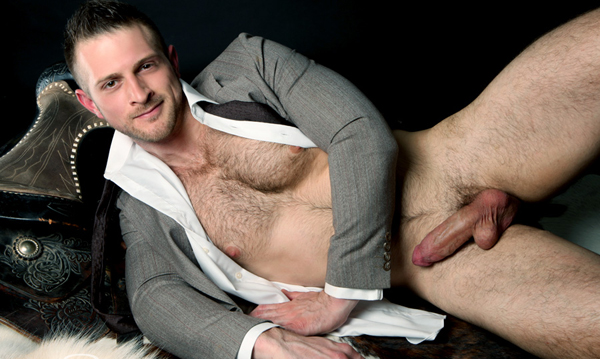 There's a 70s theme to this week's scorchingly sexy solo at Men at Play. Newcomer Paul Wagner is dressed up in a vintage suit, reclining on a retro animal skin rug with a 'come and get me' smirk plastered all over his handsome face. This guy is almost overwhelmingly cute and when he slowly unbuttons his shirt and pulls open his suit pants, he reveals he's got a perfect body to match.
With his sexy hairy butt and firm meaty cock, Wagner shows he's got what it takes to deliver a steaming solo. I'm definitely hoping we see a lot more of this stud on MAP this summer.
Watch hot guys fuck in suits at Men at Play